At this moment, an all-new Audi A3 is ensconced among its kin at Audi Raleigh. Poised to rouse consumers with its prowess and debonair style, this entry-level luxury sedan enjoyed a successful launch at the North Hills Commons this past Thursday, April 3rd. Dozens of people, some who were fortunate passersby, met with our brand ambassadors to learn about the A3 while savoring complimentary appetizers and beverages. We content writers for Leith Marketing enjoyed observing the reactions of interested consumers while each of us sauntered around the event.
The date of April 3rd was quite a fortuitous choice, for it fell within the week that heralded a change in weather after a harrowing winter season. A brief drizzle and a few baleful clouds worried the staff involved with preparation, but it soon yielded to the sunshine – as well as welcome heat. With the cars lined along the center square, DJ Randy began to play an eclectic selection of music and people started filing in to take a closer look at the Audi A3.
A launch event provides consumers an opportunity to open the hood and sit in the driver's seat; to get friends' opinions and professional insight. It is a time anyone and everyone can start developing an assessment of the car: how it feels, looks, and sits. Are the arm rests placed well? Is the infotainment console confusing? Is the cabin spacious? Are the seats comfortable? It was not a high-pressure sales pitch but a genuine occasion for learning about the brand and, specifically, the Audi A3.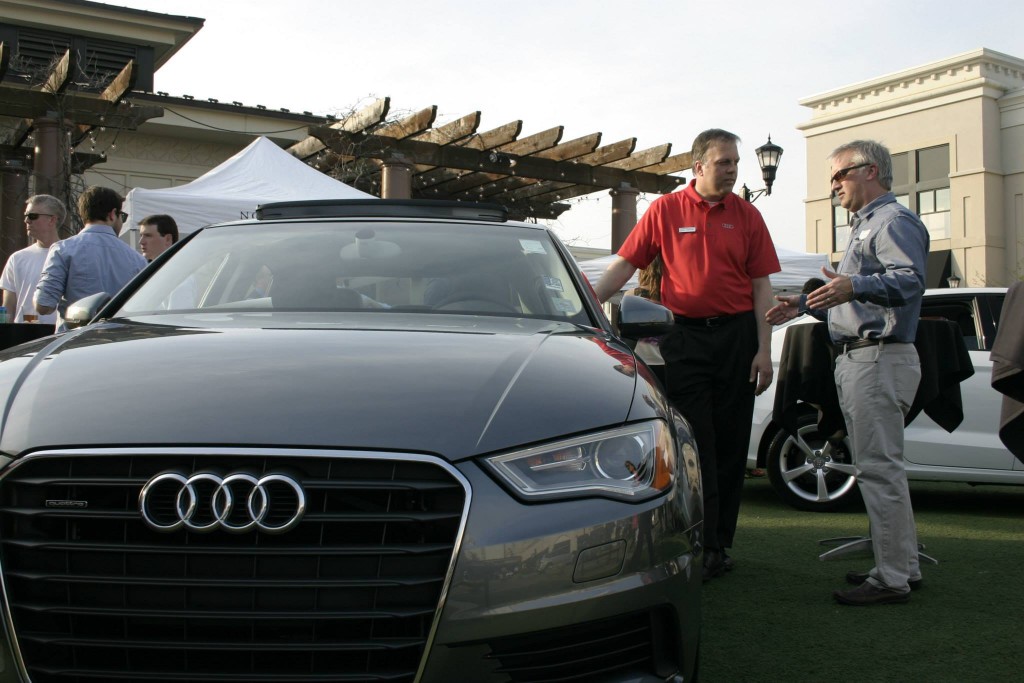 At the sign-up table, friendly Leith employees waited with smiles to welcome all who decided to browse; however, everyone received a bit more than mere congeniality. Each sign-up, which required only a name and e-mail address, came with a koozie, Audi keychain, two complimentary drink tickets, and an enjoyable time spent out in the sun. We even had a special guest join us…
An Audi R8 sat across the road, perched in front of the local movie theater. People gravitated toward it and, consequently, piqued the interest of those onlookers about the Audi brand. This moment afforded the Audi ambassadors a chance to usher more potential attendees over to the event and introduce the A3, the uncompromised luxury sedan that starts out at less than $30,000.
We at Audi Raleigh encourage you to visit our location and speak with a knowledgeable brand ambassador about the A3 or any of the models in our superior lineup.
A3 Launch Event Happens to Great Fanfare
was last modified:
April 20th, 2022
by