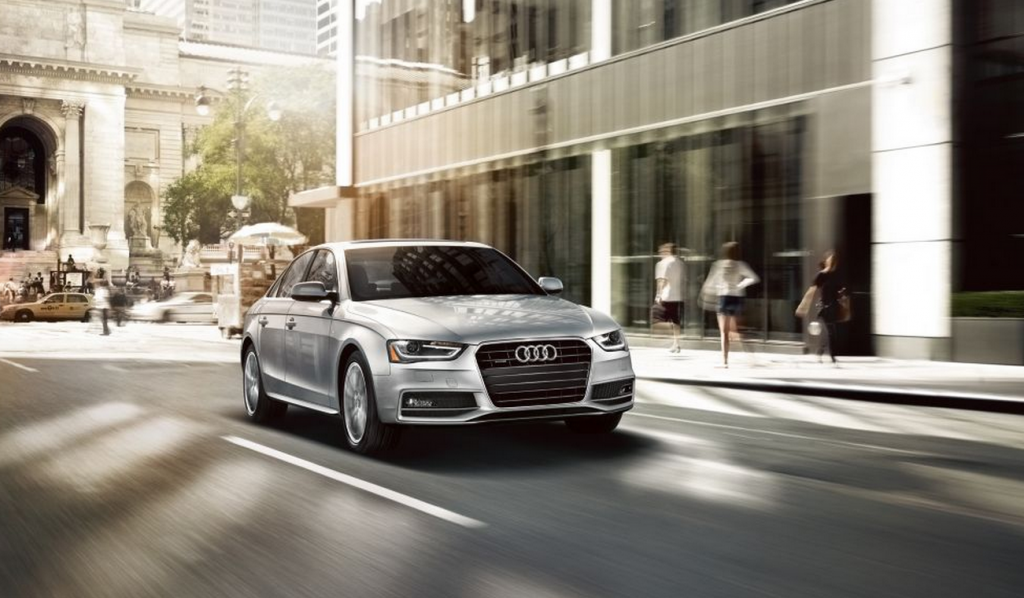 In terms of brands, Audi straddles the line between racing and luxury. This position is unique as German brands mix-and-match between three primary attributes: racing, luxury, and performance. Porsche does racing, BMW aims for performance and Mercedes-Benz does performance and luxury. What's the difference between performance and racing? That's exactly the question we set out to answer in our test drive of the 2014 A4 S-Line at Audi Raleigh.
Our sales guide is Craig Elstak, a good-natured specialist with a laidback approach that shows in aspects of the car he finds most interesting. Craig has been to Germany to drive Audis and therefore has an appreciation for what they can do in their native environment. He has also seen versions of Audis with features way more cool than anything in the U.S.—confound our outdated regulations!—like 3D displays; ask him about it.
The A4
The A4 is the second level of sedan in the Audi wheelhouse in terms of size, weight and cost. To get the best sense of it, we asked for the most fully-loaded version possible: Prestige trim level, 14-speaker Bang & Olufsen audio system, MMI Navigation plus package, Audi Connect system, 19" design wheels and "thorax" side airbags. Will your car protect your thorax in a collision? We think not! Best of all was an increasingly rare six-speed manual transmission, the better to get all 220 horses out of the turbocharged 2.0 engine.
Proper auto design is about managing flow—poising the front to leap forward, the sides to streak back, the interior to accommodate all kinds of passenger and driver movement, and the rear to tie everything off. To that end, Audi's designers had one goal when considering style choices: always go for what makes it cool. Keyless entry means you place your hand on the door handle, the car unlocks. Be seated, and the flat-bottomed steering wheel—a racing perk that echoes its R8 sibling—gets you in the proper frame of mind. Push-button start the car, and Audi's signature daytime LED headlights switch on, the better to create first impressions.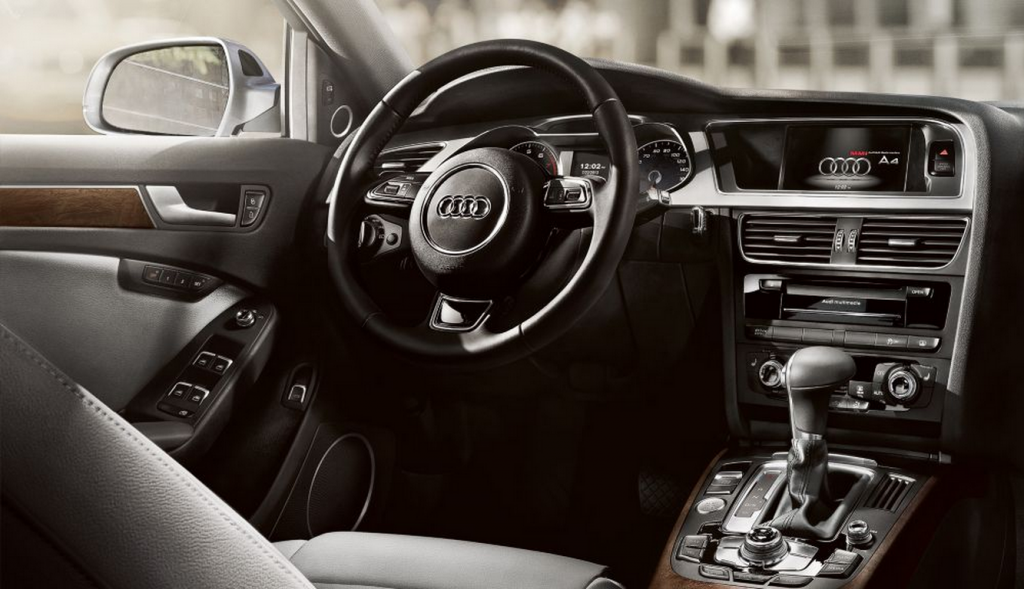 The Cabin
The overall sense of the A4's instruments is a very high-end experience. The grouping of numbers in the speedometer is tight, just like the tachometer on the left, and a vertical data screen is nestled between the two. This vertical screen will be crucial in helping you scroll through different systems of the car while you're driving. While many cars expect you to keep looking over to the middle of the dashboard for a screen, this vertical screen of Audi's helps keeps you focused on the road.
We've tested a lot of different cars in the past few months, and few controls on the steering wheel are as intuitive as Audi's thumb wheels. Right below your thumbs are two ridged togglers. These make it easy to, say, lower the volume with your right thumb and cycle through phone options with your left. You still have to press gently to make selections, but thumbing up or down is so much easier on your digits than pressing a button. Audi engineers knew that volume is something you'll adjust several times per day, so they designed the action with ergonomics in mind. Very nice.
The center console shows a preference for physical buttons—a theme consistent throughout the Volkswagen Group, of which Audi is a part—instead of touchscreens, which most automakers are embracing. The A4 still has a screen, a sharp and surprisingly fast LCD atop the dash, but instead of making it trendy, they chose to make it better. Cycling through each of the four main menu groups changes the accent color of the menu screen (green for phone, orange for audio, red for navigation, etc.) that makes it easy to tell at a glance what mode you're in, and also just makes it feel cool and futuristic.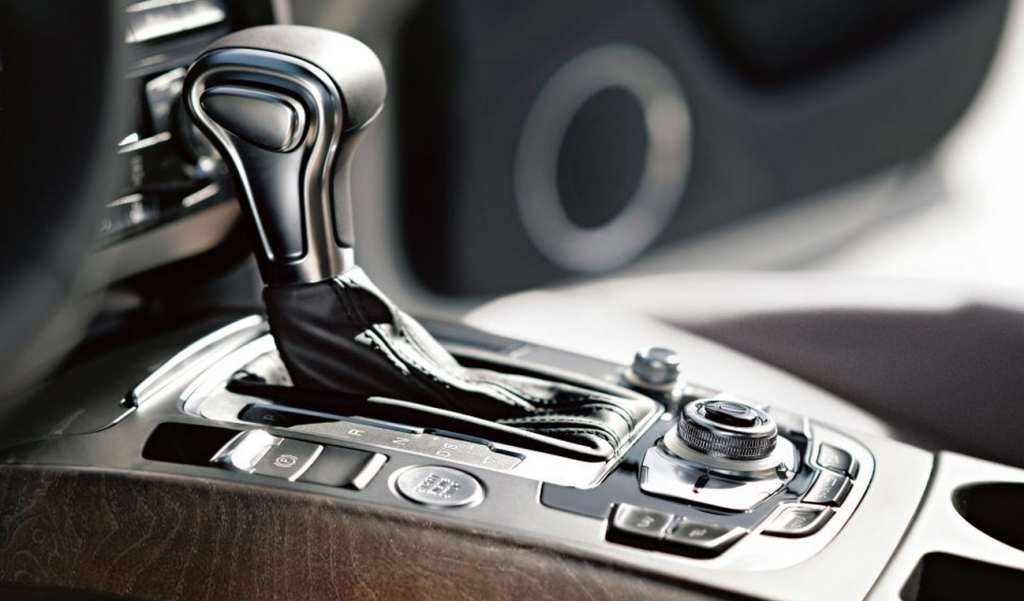 The Technology
The Audi Connect system is very fast—many car systems feel about as speedy as your old early-2000s desktop computer—and shows weather, gas prices, news, local points of interest and lots of other useful information. Built-in 3G means you have a constant source of new information no matter where you are. It's hard to describe how helpful it is to have a car so intelligently equipped, but it basically means you will always know what's going on near you, if it's worth going to, and how to get there. Plus the menu interface—a ring of menu options—is smoothly animated and has the fluidity of a smartphone's user interface.
Craig has so many details memorized about this car that it's astounding. He shows us how the car has a voice recognition diagnostic: a series of verbal prompts that teach the car the unique way you pronounce words and sounds. The purpose is so that you don't have to teach yourself car-speak: "Call Matt." "Did you fall flat?" "No, call Matt." "You have fallen flat. Are you all right?" "I'm fine, I just want you to call Matt." "Calling police department." "NO! Cancel!" "Cancelling." "…" "Are you mad?" "I'm not mad." "You seem mad." "I'm not mad." "…" "I just wanted to know if we had any milk." "You're flat-out of milk?" "NO!"
Instead, you can just talk at your normal level, and the A4 will figure it out. Pair your phone wirelessly and you can make calls, play your music and navigate with ease (or just use the car's Google Maps navigation). If you have nicknames for your friends, e.g. Matt for Matthew, tell your A4 this and it will remember. You can also have two phones connected to the A4 simultaneously so that your friend can be handling the music and your phone can be handling the navigation and phone calls, a feature that we've not noticed in another car. And with mobile WiFi, up to eight mobile devices can be using WiFi instead of using their individual data plans.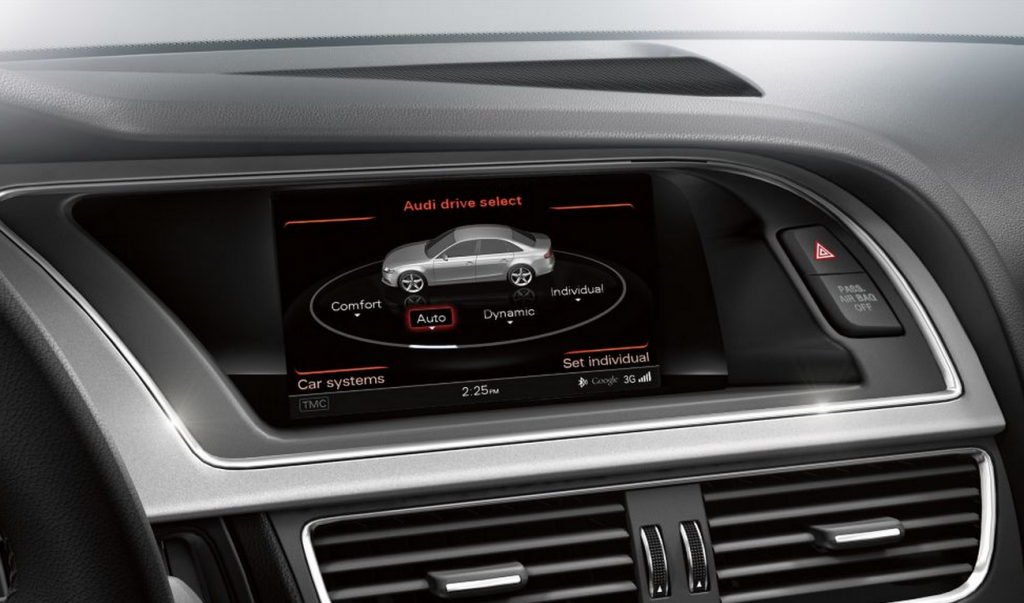 The 505-watt audio system offers the sophisticated rendering of music that you would expect from Denmark-based company Bang & Olufsen. The company is known for their meticulous study of acoustics, particularly in automobiles, a feature we very much appreciate as lovers of music.
Another feature deserving of note: the blind spot assist on the side mirrors. Instead of craning your neck to the rear, a large black panel on your side mirror will blazes with revealed orange light if a vehicle is in your blind spot. If you somehow miss this and activate your turn signal, the light will flash to catch your attention. This is simultaneously more effective without being more intrusive than many other blind spot systems we've seen in other vehicles.
Craig and I brought along two passengers to test the rear seats while we drove, and to play around on their phones while we focused on the driving itself. Our passengers reported being pleased with the suede Alcantara on the rear doors, and the support of the rear seats. This support proved crucial when navigating roundabouts and curved ramps in North Raleigh at speed, which we were sure to do.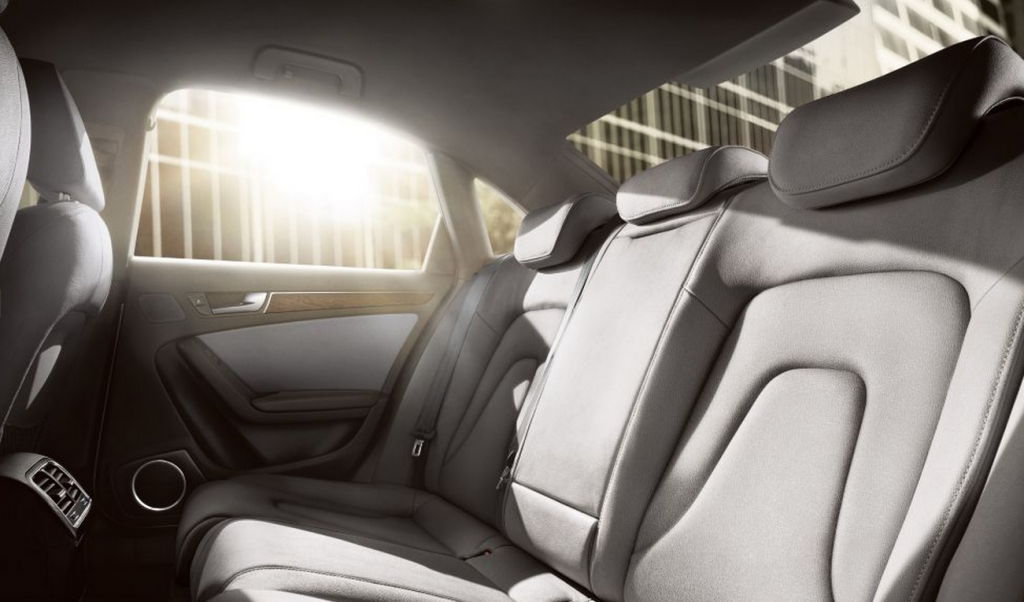 The Drive
The clutch in the A4 is supple and poised. Cycling through the various gears gave us plenty of speed, and the insulation of the car meant that we frequently found ourselves going way too fast without meaning to. Though the engine note was strong, and our threading of the traffic lanes all too easy, the A4 is built with such density that neither we, nor our passengers, nor even Craig, ever found ourselves pressed back into the seat with acceleration. Speed simply happened, and therein lies the A4's DNA of racing AND luxury.
The designers sewed a secret deep into the marrow of the A4. It's written into the frame, braided into the chassis, melded into the suspension, emblazoned on each cylinder head. The instruction set of the A4 is to act like a racing car without anyone being able to notice it besides the driver. This is basically a safeguard against passengers being disturbed.
While you'll frequently discover yourself going 85 mph—not on a highway—because the shifter and exhaust note make driving so effortless, rear-seat occupants will be watching something on an iPad and the passenger next to you will be finding the perfect dessert place on her phone. The A4 grips and nosedives, flings and rotates, but soaks up all of these sensations so that if you hadn't been behind the wheel, you likely wouldn't have even noticed what happened. It's the old adage: don't blink, or you'll miss it.
In that sense, what the A4 does is astounding. Driving becomes more of a visual experience than a tactile one in a sensation that echoes a video game simulation. This means that if you're driving a few colleagues to the airport to catch a flight, you will make the final boarding call without disturbing your passengers' last minute adjustments to their presentation. The A4 is much more than just a driver's car – it's a driver plus passenger car. Granted, that's implicit in the idea of a five-seat sedan, but after so many sedan-makers have left the driver without anything interesting to do, being handed the keys to an A4 is a welcome change.
Test Drive Review: Audi A4 Invents Driver-Plus-Passenger Category
was last modified:
April 29th, 2015
by